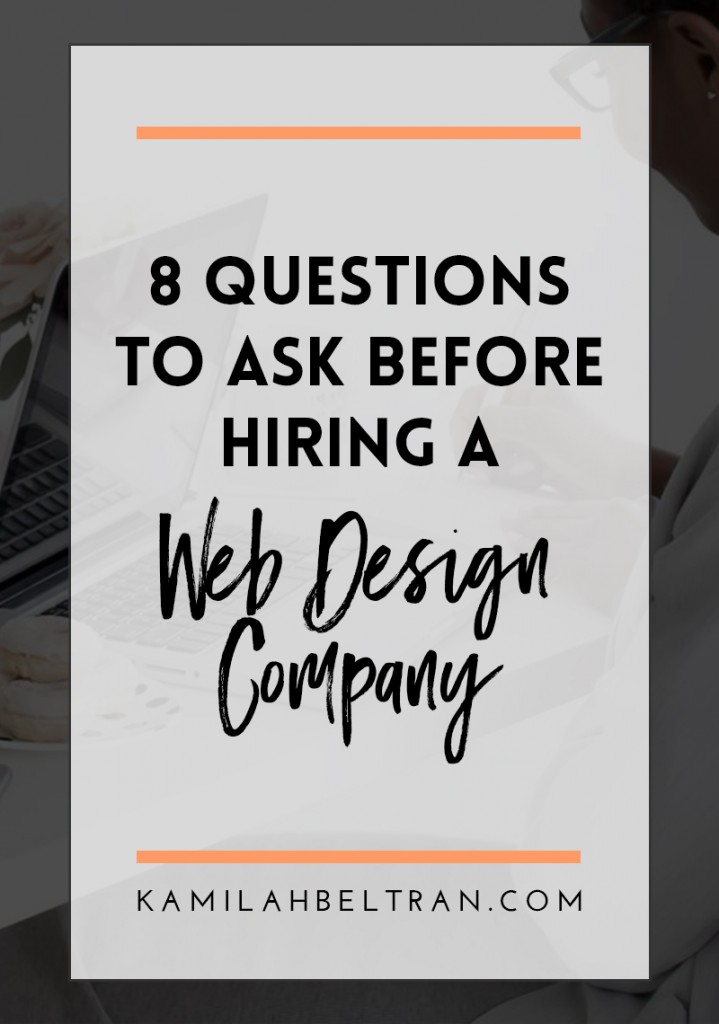 In my 17 years of designing websites I have launch many clients first website for their business and there are those that I've worked with that have already had their websites built that I have given a "website makeover". After 100s of conversation with clients, I've heard countless stories of past experiences with designers that resulted in money down the drain or being completely unhappy with the final design.
Here are the 8 questions that should ask any web designer before hiring them. Building a website is sort of like building a house, you really want to know what to expect when working this closely with someone on something that's so important to your business.
Here we go…
1. How long have you been designing websites?
Not a lot to explain here, but this will help you gauge the amount of experience that they have.
2. What is your process?
What you're wanting to find out with this question is exactly what is the entire process from start to finish. Every web designer has their own process and you want to know what it is. You don't want to encounter any surprises along the way. For example, you want to know how many revisions your get or do you get to decide on important design elements like colors used.
Here are some highlights from most design processes:
– payment schedules (deposits, etc)
– project timeline from kick-off to completion
– phases of the design and development process
– how client and designer will communicate
– the feedback and revision process
3. What platform do you use to build your websites?
This is an important question because what your website is built on will likely be what you may be stuck with for quite some time and you don't want to waste money paying someone else to recreate or move your website to another platform. If you're ultimate goal is to have a WordPress website, then don't hire someone that specializes in building websites with Wix.
Also you want to know what platform they are building your website with because there may be a monthly cost associated with the features that you want. Some features (like an eCommerce shop) are free are some platforms while you have to pay on others.
4. Do you custom design your websites?
The level of customization that a web designer offers will factor a lot in the price. Some web designers simply take a template and data fill your content while others create custom graphics and add features that turn your website into an experience. You should be able to also see this in their portfolio. If there are no links to the live websites, ask for links to websites they've created so you can see how they perform live and how they look on different devices. If you need something that is very unique to your business, this could be a make or break question.
5. Do you provide consulting throughout the design process?
Websites are an investment in your business and you want a certain level of expertise in the person whose hands will be touching your website. Some web designers are simply technicians. They take the content you give them and plug it into your website. While others are web designers and business consultants. They care about more than just the design of your website. They care about how it functions and the user experience. Their goal is to help you build a website that grows your business and not only looks good. A website consultant will be able to provide you with feedback during the design process to help you make the best decisions for your website.
6. Do you know SEO?
Your web designer doesn't need to necessarily be a search engine optimization (SEO) expert, but you want them to at least know how to add the basic SEO functionality to your website so that you can be found in search engines. If you're looking for more extensive SEO services like optimizing all the pages on your website, ask if they offer more SEO services.
7. Do you use a contract or agreement?
You definitely want to work with a web designer that follows the guidelines in their contract and terms and agreement. A web design contract can seem like a lot at first glance, but it's an important part of the process to outline how you'll spend time together, outline the project scope, refunds, payment schedules and deadlines. We hope for the best, but sometimes things can get off track and you need to be able to refer back to your signed agreement.
Side note: No matter how good a contract looks, never sign a contract from a person you don't trust. Contracts don't protect you against shady people.
8. Will I be able to make my own website updates?
A website is an evolving element in your business and you'll likely have to make updates to your content on your website from time to time. Ask your web designer if you will be able to make your own changes after the launch. You'll likely want to make changes to your packages or bio. And a great follow-up question is, "do you offer training?" For example, I close out my projects with my clients by providing a recorded training session they can always go back and refer to you.
If you get these questions answered you should feel secure knowing if this web designer is the right fit OR not for the job.
I'm the founder of A.D.O. Digital Marketing Agency and would love to chat with you more about your website and online business needs and answer any questions you may have.
Click here to schedule a FREE 30 minute consultation with me today.